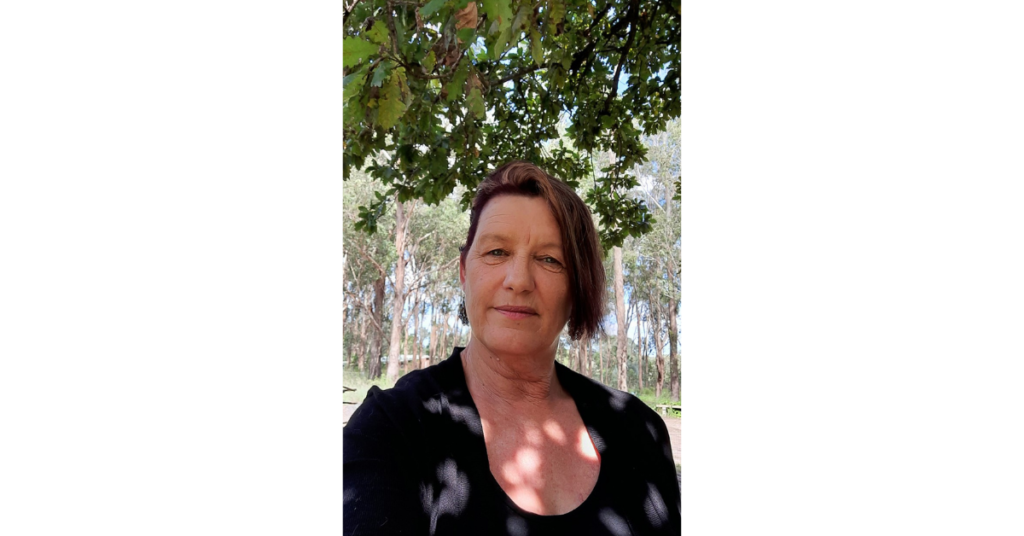 Mother, animal lover and artist, Janet, 59, Sydney, spent nine years caring for her then ex-husband, Ian, through the last stage of his life.
Although Janet and Ian were no longer married at the time, they remained close friends. When Janet learned of Ian's illness, she invited him to come and live with her, to ensure he had company through the last stage of his life.
Janet and her son, Tom, cared for Ian together, for many years. Janet spent the final three years of her ex-husband's life as his full-time caregiver, during which they discussed his dreams, memories, and importantly, end of life wishes.
This proved a highly challenging time for Janet on many fronts, especially navigating the healthcare system on Ian's behalf, while striving to respect his final wishes.
Janet learned of The Violet Initiative (Violet) – a social enterprise that strives to build resilience and reduce regretful outcomes for individuals in the last stage of life (due to frailty or terminal illness), and for their caregivers and families – through a banking referral partnership. She and Tom utilised this opportunity to discuss their collective experience as caregivers. When Janet subsequently sought professional support from a Violet Guide, she literally felt the weight of the world lift from her shoulders.
The Violet Guide offered Janet compassion, and armed her with the strength, confidence and clarity to accept the path she was on, and to prepare for what was ahead, for her and for Ian.
Today, Janet encourages anyone who is caring for a loved one, to seek invaluable support from Violet.
This is Janet's story.
Caregivers and family members of those at the end of life often feel uncertain, unprepared and unsupported.
"Although Ian and I were no longer married, we remained friends, and raised our son, Tom, together,"
said Janet.
"When Ian informed me of his chronic obstructive pulmonary disease (COPD) diagnosis, I decided it would be in his best interests to be supported by family. So, I invited Ian to move into my home, because it was very important to me that Ian had the best possible care."
During this period, Janet felt compelled to do anything within her power, to stay strong for her family, and to honour Ian's last wishes. She subsequently spent the ensuing nine years caring for Ian through a progressively challenging process. In his final four years of life, Ian's health deteriorated significantly.
He required a full-time caregiver for the final three years of his life, and spent his last five months in palliative care.
"It was Ian's wish to die at home, and I did everything within my power to honour this.
"I wanted Ian to feel heard, to be able to make decisions for himself, and to have those decisions honoured," Janet said.
"We spent our final months together chatting, laughing, and even crying at times. It was a precious time during which we were able to reassure Ian in relation to his final wishes, and to maintain his dignity."
Apart from the emotional toll of caring for Ian, Janet often felt overwhelmed by the ongoing pressure to ensure he remained pain-free, to keep abreast of his constantly evolving needs, and to ensure his medications were correctly administered. She worked hard to prioritise his wishes, and to turn every experience possible into a positive one.
"Navigating Ian's palliative care was difficult at times, because Ian's wishes and the things the doctors were requesting of me, were often misaligned.
"Going through COVID-19 made this experience even harder, given Ian's compromised immune system and being unable to introduce anyone into our home for months on end," said Janet.
"This left me feeling disempowered and overwhelmed at times."
Fortunately, Janet learned about The Violet Initiative and the social enterprise's service offering at a crucial time in her journey.
"I didn't want to over-burden my son too much with my feelings, and to be honest, although my friends offered their support, it was hard for them to understand. So, connecting with a Violet Guide was literally life-changing for me.
"My Guide, Marian, offered me the confidence and clarity I required at the time," Janet said.
"I felt heard, empowered and confident that I was actually on the right track.
"It was profoundly important for me to have someone for support who had walked in my shoes, who could both acknowledge and encourage me while I was caring for Ian," said Janet.
"Marian was not only able to relate to me, due to her own similar personal experience, but to act as a reassuring friend. Our conversations helped me to prepare for what lay ahead.
"I honestly felt like the weight of the world had been lifted off my shoulders after speaking with Marian. I felt at peace with what was to come," Janet said.
The Violet Guided Support Program comprises multi-session, structured, peer-to-peer conversations focusing on end of life acceptance, planning and communication.
Janet also tapped into the suite of Violet resources – an ever-growing, content and resource-rich digital library designed to support people, and their families, with navigating the end of life. Having access to these resources not only helped Janet personally, but allowed her to open up communication channels with her son, and to navigate the challenging experience, together.
Violet offers support to both informal (family members) and formal caregivers (professionals and clinicians), as well as referrers (those working in organisations associated with the last stage of life). The social enterprise reduces regret by helping people to change behaviour through open acceptance, thorough planning, and effective communication. By so doing, Violet helps those at the end of life, and their loved ones, to best maximise, or enjoy their time together.
"At the end of his life, Ian was with his family who loved him. He was able to communicate with them, and to show his love. And most importantly, he felt loved," said Janet.
Violet provided support to more than 1,200 Australians in 2020 – a watershed year marked by bushfires, floods and the global COVID-19 pandemic, which propelled a subsequent 10 per cent increase in the rates of complex bereavement.1
To learn more about Violet and its service offering, head to www.violet.org.au or call 1800VIOLET.