The Australian sun has a fearsome reputation. As one of the countries with the highest rates of skin cancer, we've been bombarded with campaign after campaign for sun safety.
Despite the efforts, a new survey released by the Australasian College of Dermatologists (ACD) has discovered Aussie men aren't recognising the risk. Less than one-in-three men consider themselves at high risk of skin cancer, despite 82 per cent reporting at least one known risk factor, such as fair hair, skin that burns easily, or spending time outdoors each week.
Additionally, the results found that 61 per cent of men surveyed have delayed a visit to the doctor despite concern about a health issue.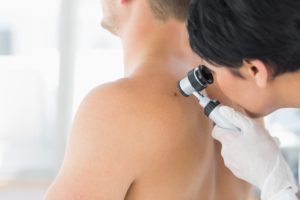 Dr Alex Varol, dermatologist and Fellow of the Australasian College of Dermatologists, Sydney, says early diagnosis is key to successful treatment of skin cancer.
"As experts in the diagnosis, surgical and non-surgical treatment and management of skin cancer, including melanoma, dermatologists unfortunately see a huge number of male patients with some form of skin cancer.
"Men are at higher risk of developing both non-melanoma and melanoma skin cancer than women, but are often more reluctant to visit a doctor to have their skin checked. Often it's not until they know someone who has been diagnosed with skin cancer, that they too, suddenly realise they could be at risk of the disease," said Dr Varol.
What can I do?
Thankfully, there's an easy step for you to take. Book in a skin check! GPs are able to examine the spots on your skin and refer you to a dermatologist if necessary. Want to head to a dermatologist directly? The ACD has a great resource on their site to find a dermatologist near you. Visit https://www.dermcoll.edu.au/for-community/find-a-dermatologist/