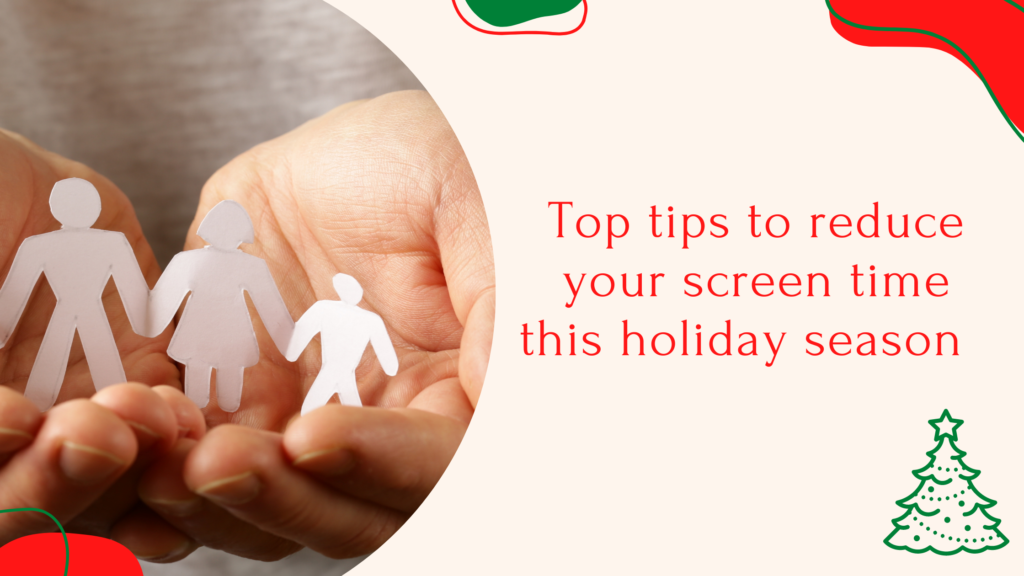 For many, the holiday period is a time for people to spend time with our friends and family, however is excessive screen time distracting us from making the most of the quality time with our loved ones?
Especially during the pandemic, our phones and computers have been a vital tool in keeping us connected to our friends and family throughout the extensive lockdowns and periods of isolation. However, as we transition back to 'normal' life and social restrictions are easing, have our screen habits become an unwanted distraction when we spend time with others?
New research has revealed Australians are spending an average of five and a half hours a day on their phones, equating to around 33 per cent of our waking hours[1].
Excessive screen time can have detrimental health impacts, including being linked to depression, obesity, poor diet, and decreased physical and cognitive abilities.[2]
Therefore, as we enter the festive season, it is important we all take some time away from our screens doing physical activity, and make the most of time spent with our friends and family,
Here are some simple tricks to help you break your screen time habits and improve your screen to no screen time balance:   
1.Create technology free time
Consciously create technology free time, especially when in the presence of friends and family.
This could be an individual activity, or you could share with your group that the time you are spending together is going to be screen free. This encourages everyone to be present and enjoy the company surrounding them.
2.Ask yourself why?
When reaching for your phone in the presence of others, pause and ask yourself why? Is it necessary to look at your phone in that moment?
Make a conscious effort to only interact with your phone when absolutely necessary, and then put it away immediately when you're finished.
3.Turn off notifications
Putting your phone on do not disturb or turning off all unnecessary notifications is a good way to ensure you won't be distracted.
Hearing the constant buzz of notifications is not only annoying but also a huge distraction. Instantly, you are thinking about what those notifications could mean, drawing your attention away from the people around you.
4.No phones at the table
When sitting down for meals, be sure to place your phone somewhere you can't easily reach it.
Sharing meals together is an important time for communicating. Children develop many of their communication skills when in the presence of adults. Set a positive example for them and focus on conversation to help them develop.
5.Make it a game 
Encourage everyone you are with to challenge themselves to putting their phones away. Even making it a friendly competition to see who will be the first person to touch their phone.
LIV encourages everyone to make a conscious effort during the festive season (and beyond) to focus on spending quality time with friends and family and reduce screen time.
To learn more about how to reduce your screen time visit: www.reviews.org/au/mobile/aussie-screentime-in-a-lifetime/

---
[1] https://www.techguide.com.au/news/mobiles-news/would-you-believe-we-spend-5-5-hours-a-day-looking-at-our-smartphones/
[2] www.uq.edu.au/news/article/2021/08/excess-screen-time-impacting-teen-mental-health