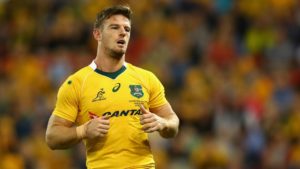 Rugby Wallaby star, Rob Horne, 29, Sydney is headlining a national chronic pain roadshow this week tailored to the one-in-five Australians living with chronic pain, and their loved ones.
The Australian Pain Management Association's (APMA) 'Taking Back Control of My Chronic Pain' roadshow kicked-off in Sydney yesterday to a packed house, and is set to run in Melbourne this evening, Adelaide tomorrow, and Brisbane and Noosa later this week. The 1.5 hour-long seminars are jam-packed with information and education for those living with chronic pain, their families and carers.
The seminars feature roadshow ambassador, Horne, professional rugby player, husband, and father-of-two young children, who sustained a life-changing injury six months ago, retired US Army Master Sergeant, Justin Minyard, 38, Florida, USA, who has battled chronic pain since serving as a first responder at the Pentagon during the September 11 attacks, and leading local pain physicians.
"I have lived with a level 10/10 chronic pain since the day of my injury. But the way I manage and deal with my pain has changed dramatically in the past six months," said Horne.
"Sharing common experiences is a way of moving forward, which is why I'm honoured to be the national ambassador for the 'Taking Back Control of My Chronic Pain' chronic pain roadshow."
Justin Minyard, who was crushed by collapsing rubble while acting as a first responder at the Pentagon on September 11, fractured his spine. Following surgery and intensive rehabilitation, Minyard was deployed to Afghanistan, where he broke his back after falling from a Black Hawk helicopter.
"Living with inadequately treated chronic pain controls every aspect of your life," Minyard said.
Justin subsequently plunged into a vicious cycle of dependency on medication, while his pain continued unabated. It wasn't until undergoing life-changing surgery involving the implantation of a spinal cord stimulator, that Justin was able to turn his life around.
"Being able to now effectively manage my chronic pain has given me a second chance to be the husband and father I should be.
"My advice to Australians living with chronic pain is to be your own advocate and educate yourself, which is why I have chosen to support this chronic pain roadshow. I want to help others on their chronic pain journey, because I've been through it, and come out the other side," said Minyard.
According to Dr Nick Christelis, Director of Pain Specialists Australia, Melbourne, "Living with chronic pain can have devastating effects on a person's physical function, quality of life, relationships, work, social interaction and family life.
"Chronic pain doesn't discriminate. It can affect anyone, sick or healthy. It can affect everyone from children and adolescents, to adults and the elderly. It can be due to injury and trauma, or due to no obvious reason at all.
"One of the hardest things about chronic pain, is that it is largely invisible, and patients can feel misunderstood and stigmatised, by family, friends, co-workers and even some healthcare professionals. That's why events such as this patient roadshow is such a great opportunity for the chronic pain community to share common experiences and information," Dr Christelis said.
The not-for-profit charity, APMA, which is hosting the chronic pain roadshow, offers practical options and support for people living with persistent pain.
To register for your local event, or learn more, head to www.controlmypain.com.au or call 1800 759 565.