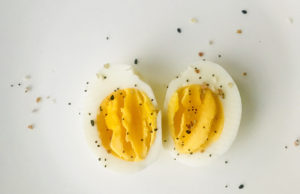 The Australian BBQ is a classic event for family and friends that traditionally features backyard cricket, a few cold beers, and something tasty on the grill.
Why not add an extra dose of protein and flavour to your Aussie BBQ fare with a Sunny Queen Free Range egg.
Accredited and leading dietician Kate Di Prima is a fan of the Australia Day family fun and feasting, but is a firm believer that you don't have to sacrifice your health to have fun.
"Adding products like eggs to your meal gives your family an extra boost of protein and nutrients to last the day's celebrations.
"Eggs are so incredibly versatile and you can even cook them in an Australia Day friendly way like on the BBQ with the shell on," said Miss Di Prima.
Sunny Queen Farms have put together some tips and tricks to make your Australia Day perfectly eggy!
Cook it with the shell on!
For a fun new twist on the hardboiled egg, simply place your raw Sunny Queen free-range egg on the grill, and wait until the shell turns slightly brown (6 to 14 minutes depending on how runny you like the yolk). Once browned, remove the egg from the heat, crack it open and your egg is smoky and grilled! Slice, salt and pepper, and add to your burger (or salad).
Add salt and pepper before fully cooked
You might have heard to add salt after cooking eggs to keep them light and fluffy, but it's actually the opposite! Salting your Sunny Queen Free Range eggs as soon as they're on the barbecue allows the salt to dissolve the eggs' proteins, forming a moisture binding network, and making your Sunny Queen free-range eggs more soft and tender.
Timing is everything
There is nothing worse when serving a meal than having different food finish cooking at different times. To make sure your Sunny Queen Free Range egg is fresh and hot when your burger is, add the egg to the hot barbecue halfway through cooking the second side of your meat patty or steak. If you prefer your yolk fully cooked then add your egg to the hot plate as soon as your steak is flipped to ensure it's fully cooked. Add to your completed burger and the word is 'Yum!'
That's all yolks!
Sunny Queen has compiled a list of easy, crowd pleasing meals on its website www.sunnyqueen.com.au/recipes to make Australia Day hosting a breeze.