Aus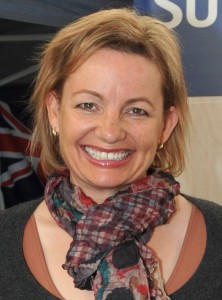 tralian Health Minister, The Hon. Sussan Ley MP, knows a thing or two about living with allergies. Prior to being sworn in as the Federal Health Minister, Ms Ley experienced an allergic reaction, during which her throat and face swelled up, reportedly likening her appearance to the "elephant man."
After being driven at 140 km/ hour to a Guyra hospital in northern NSW, Ms Ley received an adrenalin shot.
"I had a happy ending… what strikes me is the stress, concern, anxiety and the heartache these conditions bring to families," Ms Ley said.
Fortunately, Ms Ley recovered from the incident relatively unscathed.
While her allergic episode makes for a good dinner-time story, not everyone is as fortunate as Ms Ley.
One-in-five Australians are currently living with an allergic disease, and more than 30,000 Australian babies are born with a food allergy each year.
With annual allergy deaths rising by 10 per cent, Australia has been dubbed the allergy capital of the world.
On May 16, 2016, the government announced a $550,000 funding boost for the National Allergy Strategy, in a bid to curb the rise in allergy-associated deaths.
The National Allergy Strategy, developed in partnership by the Australasian Society of Clinical Immunology and Allergy (ASCIA) and Allergy & Anaphylaxis Australia (A&AA), was launched in August 2015.
The National Allergy Strategy's three main initiatives include:
Standardising drug allergy management;
Improving allergy management for teens and young adults; and
Allergy management in food services, particularly in hospitals.
Co-chair of the National Allergy Strategy, Dr Richard Loh, maintains the extra funding represents a crucial step in reducing misdiagnosis and incorrect prescriptions.
Research has revealed teenagers with food allergies are four-times more likely to experience asthma than others.
Increased awareness and understanding of allergies is crucial, particularly in cases where an anaphylactic reaction could be misdiagnosed as an asthma attack.
Early administration of adrenaline is also critical to mitigating the more severe symptoms of an allergic reaction.
"Most importantly, a reduction in allergic reactions and improved emergency treatment when they do happen, potentially saves lives," Dr Loh said.
Dr Pretti Joshi, a paediatric allergic and immunologist, Miranda, NSW witnessed first-hand, the gaps of knowledge in the food industry, when her daughter experienced an anaphylactic reaction to ice-cream. In a matter of minutes, her daughter's throat swelled up and her breathing became restricted.
"This illustrates a lack of education and understanding in the food industry, a myth that a little bit won't hurt, or that people are making an unnecessary fuss or following a food fad," Dr Joshi said.
Importantly, deaths from anaphylaxis are avoidable. Ongoing education and awareness programs in health and hospitality services are required to help minimise further, unnecessary deaths.