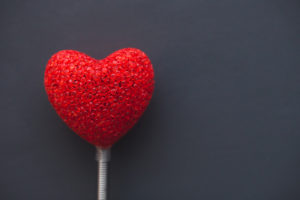 Most of us think that Valentine's Day treats could only be bad for our health, but there are many aspects of Valentine's Day that are really good for us!
Dark chocolate
Not only is dark chocolate super tasty but it is also packed full of nutrients and antioxidants, making it good for you skin and your overall health.
Dark chocolate is good for your heart and circulation, as it helps restore flexibility to your arteries, can reduce your risk of a stroke, fight depression and reduces your cholesterol!
Plus – dark chocolate contains phenylethylamine (also known as the "love molecule"), which is the same chemical that your brain releases when you feel like you're falling in love! What could be more appropriate for V-Day?
To make the most of these benefits, try to look for chocolate that is at least 85% cocoa.
Red wine
Red wine is full of antioxidants and when consumed in moderation it can be beneficial to your overall diet.
Red wine can reduce your risk of dementia, raise omega-3 levels (which can protect you against heart disease), reduce your risk of breast cancer and slow the ageing process.
Red wine can also boost your endorphins, making it the perfect addition to you Valentine's Day celebrations.
Quality time with your significant other
Sex also has various physical and psychological benefits and can contribute to your overall health.
Not only does sex improve immunity, but it relieves stress, lowers your blood pressure and is good for your heart too!
"I'm single!" you say – don't worry. Spending some quality time with yourself meditating, or even patting a dog can have some similar effects.
So if you are in a relationship, grab your partner and if you're single, grab a puppy and enjoy Valentine's Day the guilt-free way this year!